 Welcome to Believe Liverpool Slimming Clinic, specialists in medically supervised weight loss management plans. All of our slimming plans are provided by our fully registered, qualified and

experienced doctors. Our weight loss management plans are tailored to your needs and goals. Doctors offer one-to-one consultations and advice about lifestyle changes, nutrition, diet, and exercise. Dentists in Liverpool provide cosmetic dentistry solutions including dental implants, teeth whitening and Invisalign braces. At Saving Faces we aim to provide the very best for all your general, cosmetic and aesthetic dental needs. If you want healthy teeth and gums all the year round, our hygiene team will help you. If you

want to improve your smile, to make it whiter, straighter, more even; if you want to fill gaps in your smile, replace missing teeth or secure loose dentures, we can achieve that for you. If you want to lose you crows feet, frown lines and wrinkles, we can do that too. Master's Degree qualified chiropractors based in Liverpool. Treating lower back pain, Sciatica Pain & Disc Herniations, Neck pain & headaches, Joint pain, aching and stiffness, Nerve, muscle

and joint problems Leading national dentist, Dr Melissa Goddard, has led and owned a successful multi-award-winning private practice for many years in Rodney Street in the heart of Liverpool. We literally create smiles,

enhance faces and change lives. Patients who have undergone dental or cosmetic treatment are transformed, they feel more positive, comfortable, smile more and feel happier and more confident about themselves.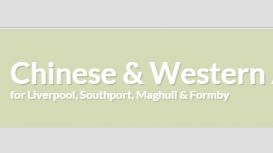 Clinical quality lies in the time and personal service offered. An in depth consultation is taken and treatment is carried out by an experienced acupuncturist who has undertaken a full time degree

level course with further post-graduate specialist training in physical manipulation, acupressure massage, acupuncture for fertility etc. Further options are available for chronic pain relief such as electro acupuncture, heat treatments (including moxibustion) and cupping.