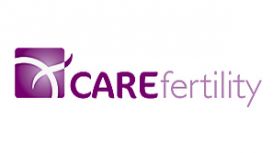 We are one of the world's leading providers of fertility treatment, genetic diagnosis and screening techniques and associated fertility preservation procedures. At the forefront of IVF science, CARE's Embryologists and Clinicians are able to offer you today's most advanced and effective procedures, some of which were developed through our own research. We are very pleased to introduce Freya Flatters who is our 1000th CAREmaps® baby. Her Mum and Dad, Belinda and Ken chose to use time-lapse as part of their treatment at CRM CARE London.
Freya is pictured with CARE CEO Prof. Simon Fishel. A study of 35,000 embryos shows all age groups benefit from time-lapse selection with patients aged over 39 showing most improvement, achieving a 59% relative increase in birth rates. Our main fertility treatment clinics are located in Dublin, London, Manchester, Northampton, Nottingham, Sheffield and Tunbridge Wells.
---
Reviews and Ratings
We do not have any reviews about CRM CARE London available right now.