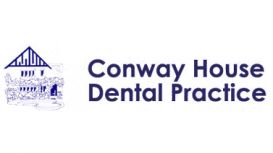 Conway House is a Family Dental Practice established for over 40 years. Our aim at Conway House Dental Practice is to provide affordable high-quality dental care in a relaxed, friendly and comfortable environment. Our dental care is centred around prevention, utilising modern techniques and materials.
At Conway House, we regularly invest in the latest dental technology and in continuing professional education for all our staff to be able to provide our patients with the highest standards of care. As a family-owned practice, patient care and goodwill are very important to us and we take extreme care and pride in ensuring our patients receive the best possible treatment.
We are completely dedicated to providing patient satisfaction and offer a comprehensive range of treatments from regular dental check-ups to aesthetic dentistry. Our experienced staff will take their time to explain everything to you. We will provide expert advice and education on how you can maintain a healthy smile. We welcome and encourage children to attend so that we can introduce them to the environment and gain their confidence.
---
Business Verification Status
Services

We offer full emergency service on evenings, weekends and bank holiday. Whether you have a chronic toothache, associated headache or jaw pain, we are available to help you.
A dental emergency is a type of medical emergency involving the teeth or gums. Pain involving these parts of the mouth, even when minor, can indicate a severe underlying problem that could worsen with time. It is important to contact a dentist as soon as possible for a professional examination to minimise any damage to the teeth, gums, and the supporting bone. Emergency dental treatment can be undertaken to relieve oral pain, which can be very severe.

People lose teeth through many different reasons, i.e trauma (when teeth are knocked out) or due to decay, gum disease or old age. Whatever the reason for losing your teeth, they need to be replaced, both for aesthetic and functional reasons. The most common treatments for missing teeth are either a denture or a fixed bridge. However, dental implants are now becoming a more popular treatment to replace missing teeth, as they provide a longer-term solution, slow down bone loss and preserve nearby healthy gum tissue.
A dental implant is an artificial substitute/replacement for the root portion of your natural tooth and is anchored into a pre-drilled socket in your jaw-bone to support a crown, bridge or secure a denture firmly in place. Implants are made from titanium, a material that is well tolerated by bone and integrates easily with bone tissue. During the placement of a dental implant, the goal is to achieve a close contact between the outer surface of the implant and the surrounding bone tissue so they can "fuse" together (osseointegration), creating a stable support for your new tooth/teeth.
Dental implants can be placed in patients of any age (with fully developed jawbones), provided that they have a sufficient quantity and quality of bone tissue available. Most healthy individuals that maintain a good oral hygiene program are suitable candidates for dental implants.
Reviews and Ratings
Really good dental practice lovely people and work are very gentle I think so far they are the best In high Wycombe.
I've never been able to say ... my dentist because mostly I went when I was close to death! Amazing team Harry is the best dentist and never makes me feel self-conscious or silly even when in the beginning is be in tears before I opened my mouth! and his team are equally as great! If you need a dentist this is your only choice.